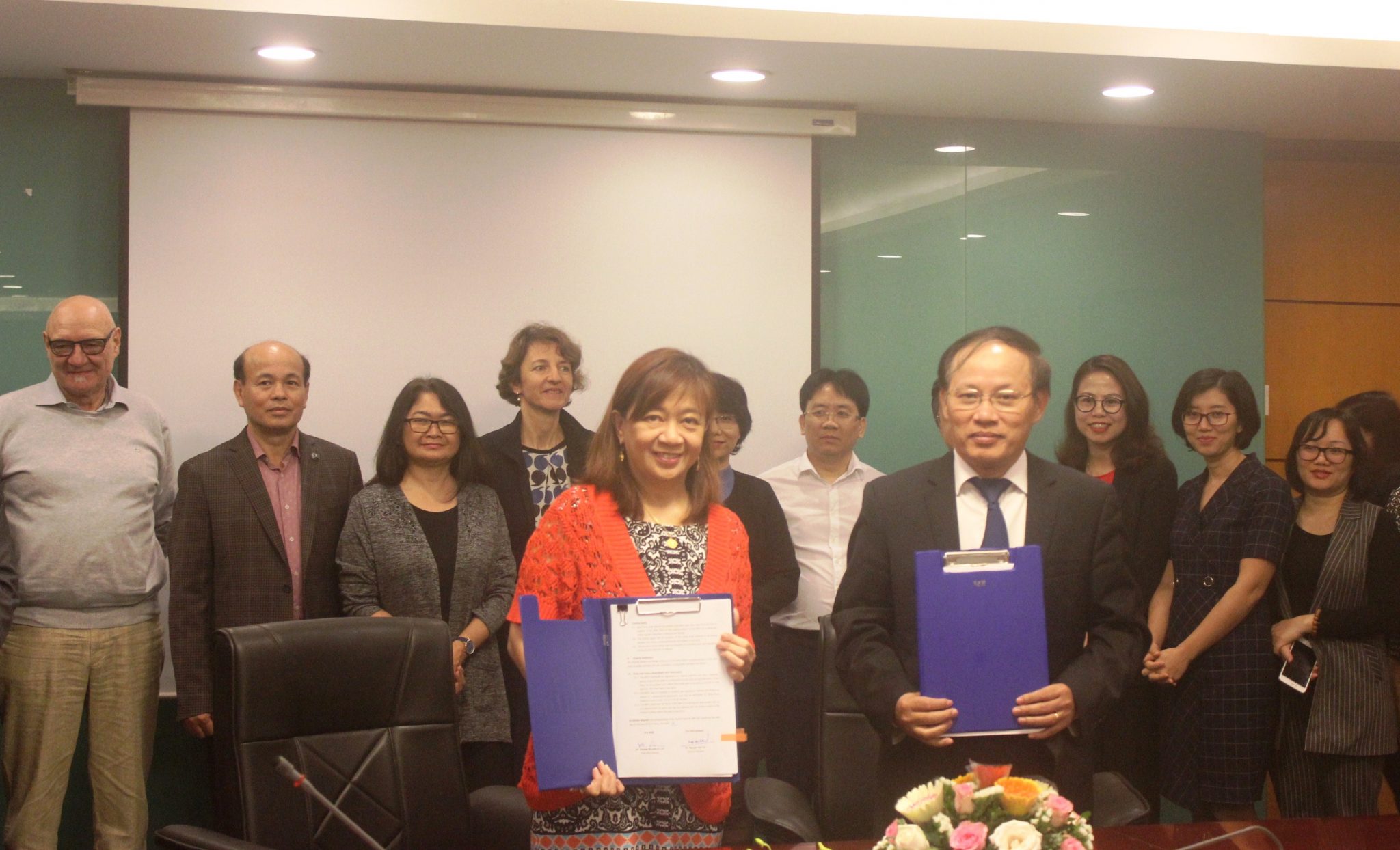 Following the success of the project's first phase, the ASEAN Centre for Biodiversity (ACB) signed a Memorandum of Understanding with the Vietnam Environment Association (VEA) for the Second Phase of Small Grants Programme, or SGP II, on 28 February 2019 in the Office of the Ministry of Natural Resources and Environment in Hanoi, Viet Nam.
The Memorandum of Understanding, which is a big step towards SGP II's aim to contribute to biodiversity protection and management of natural resources in Viet Nam, in line with the basic needs of the local population by strengthening the ACB in its role to promote biodiversity protection, was signed by ACB Executive Director Dr. Theresa Mundita S. Lim and Dr. Nguyen Van Tai, Director of VEA. Among those present to witness the event were Ms. Clarissa C. Arida, Director of the Programme Development and Implementation Unit of the ACB; Ms. Corazon A. De Jesus Jr., Capacity Development Specialist from ACB and Coordinator of the SGP; Dr. Pham Anh Cuong, Director of the Biodiversity Conservation Agency; Mr. Günther Meyer, SGP International Chief Technical Adviser; and Ms. Simone Wunsch, Head of KfW Hanoi.
"We commit our financial and human resource contribution, as well as effective coordination with relevant stakeholders in four provinces, consultant agencies, and management agencies to achieve SGP II targets of conservation and sustainable development in Viet Nam," said Dr. Nguyen Van Tai, speaking on behalf of VEA. "I also take this opportunity to express our sincere gratitude to ACB and KfW Viet Nam for your active cooperation with VEA in promoting SGP II to contribute to the preservation of precious natural heritages for Vietnamese people. We hope to continue receiving your support and assistance and other partners in implementing SGP II in Viet Nam in the coming time," he added.
Dr. Theresa Mundita S. Lim stated, "The signing of the MoU for the Small Grants Programme, or SGP II, provides us with a renewed opportunity to work together in improving and strengthening the ASEAN Heritage Parks Programme. With the generous support and trust from KfW, the programme will allow us to combine the conservation of resources in the ASEAN Heritage Parks with support for alternative and sustainable livelihoods for the communities dependent on the natural resources in these protected areas in Vietnam."
Dr. Lim also furthered that continuing the project will greatly contribute to achieving global biodiversity goals. "It is expected that the implementation of SGP II will result in best practices involving biodiversity conservation and livelihood development among communities surrounding the ASEAN Heritage Parks in Viet Nam. They will also contribute to the attainment of the Aichi Biodiversity Targets through the effective management of ecosystems and through sustainable livelihood activities to provide multiple benefits to people and nature. Eventually, these experiences and practices from conservation, community outreach and livelihood support in the four AHP sites in Viet Nam."
Funded by the Federal Republic of Germany through the KfW, the Small Grants Programme started in 2014 with its first phase being implemented in two of Indonesia's ASEAN Heritage Parks (AHP)—Gunung Leuser National Park and Way Kambas National Park—and Myanmar's Alaungdaw Kathapa National Park; Indawgyi Lake Wildlife Sanctuary; Meinmahla Kyun Wildlife Sanctuary; and Nat Ma Taung National Park, which are also AHPs. The second phase will be implemented in four of Viet Nam's AHPs: Ba Be National Park, Chu Mom Ray National Park, Hoang Lien National Park, and Kon Ka Kinh National Park.
For more information on ACB and its activities, log on to www.aseanbiodiversity.org.