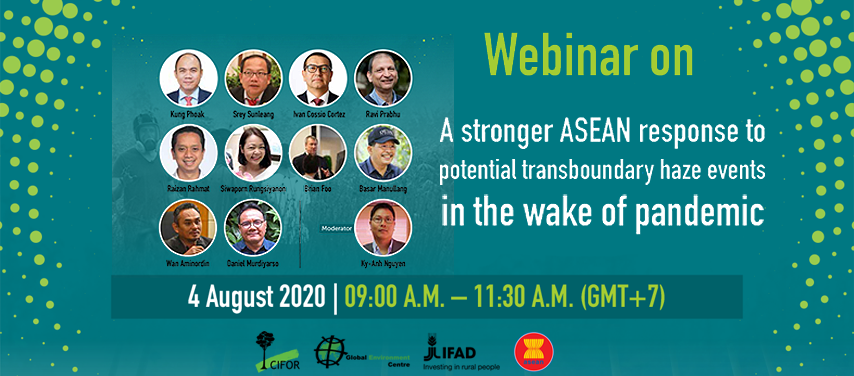 JAKARTA, 4 August 2020 - The ASEAN Secretariat held a webinar to increase concerted effort and preparedness in preventing haze events, predicted to peak in August September.
The webinar was supported by the International Fund for Agricultural Development (IFAD)-funded Measurable Action for Haze-Free Sustainable Land Management in Southeast Asia (MAHFSA) Programme.
Participants of the webinar included the ASEAN haze sectoral body, relevant ASEAN sectoral bodies, partners, and private sector actors in peatland and haze management, taking into consideration the upcoming dry season in the southern ASEAN region.
In his welcoming remarks, Deputy Secretary-General of ASEAN for Socio-Cultural Community Kung Phoak highlighted the potential threats and impacts of COVID-19 on forest fire and haze issues due to resource constraints and limited mobility on intervention.
I call upon all of us to improve and strengthen our cooperation, preparedness and coordination for a concerted response of authorities, communities and private sector in the possible event of fire and haze, rallied Phoak.
In his remarks, IFAD Country Director for South East Asia and the Pacific Sub-regional Office Cossio Cortez highlighted that IFAD has been supporting ASEAN in the implementation of the haze-free agenda for over a decade.
He further stressed that as countries recover from the COVID-19 pandemic, and in view of the upcoming dry season, we must continue to join our efforts to strengthen regional coordination aiming at promoting sustainable management of natural resources and preserving the health of people in the ASEAN region.
Key practitioners in ASEAN and Australia shared insights on the impacts and potential risks of the pandemic situation on ASEAN s response to fire and haze events, as well as lessons learnt from the 2020 Mekong dry season and 2019 Australia bushfire crisis.
Further, they shared preparedness actions for the upcoming dry season in the Southern ASEAN region as well as the measures that deployed to prevent forest fires and transboundary haze.
Among the issues that were raised at the open discussion session included the simulation of pandemic impacts on ASEAN s response and indications of budget constraints on haze prevention, preparedness, management and suppression, as well as the use of advanced technologies in combating forest fire and haze in Southeast Asia.
Participants noted the importance of cross-sectoral coordination by prioritising regional measures focused on strategies to implement health priorities, including regional prevention and control of communicable diseases and new emerging infectious diseases such as COVID-19 and environmental health.
The event reaffirmed ASEAN s efforts to (i)secure a haze-free region as guided by the Roadmap in the ASEAN Agreement on Transboundary Haze Pollution framework; (ii) increase awareness and preparedness on transboundary haze events within and across sectors and disciplines; and (iii) confront the impact of the COVID-19 pandemic on fire and haze management, and the potential risk of post-pandemic pressure on peatland ecosystems. To sustain the initiative, ASEAN Secretariat plans to organise succeeding webinars in consultation with ASEAN Member States.