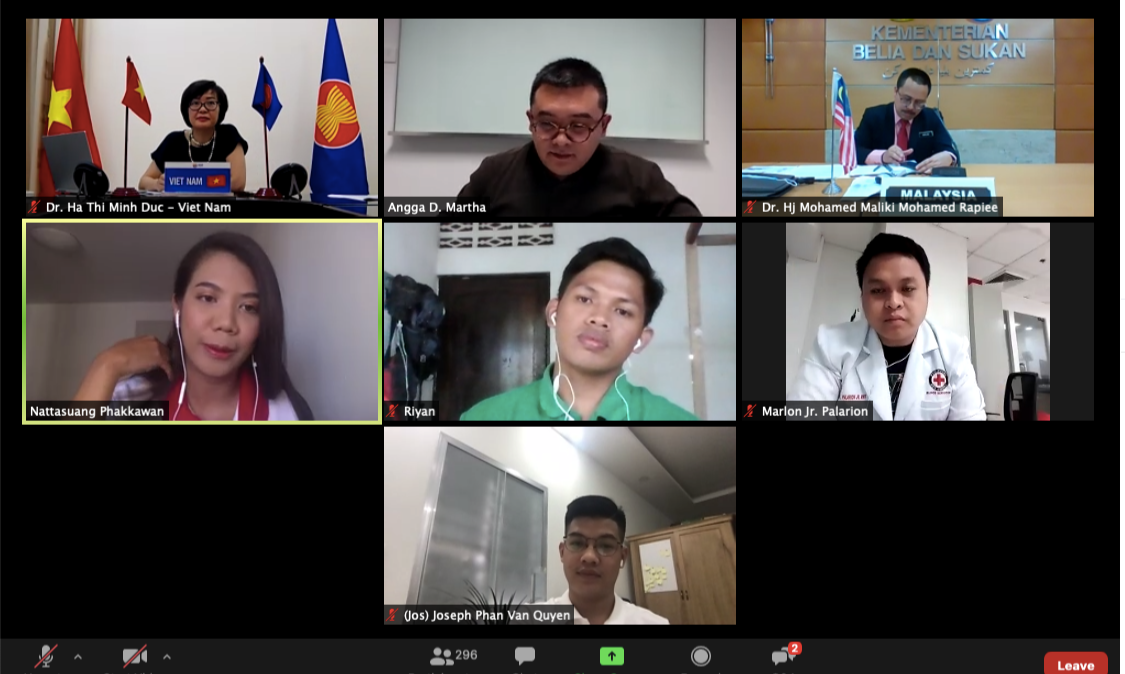 JAKARTA, 27 July 2020 Hundreds of youth from ASEAN and other countries joined in the first episode of the Interactive Webinar Series on ASEAN Youth and COVID-19 under the theme #ASEANYouth at the Forefront of COVID-19 Response.
The ASEAN Secretariat, ASEAN Foundation, ASEAN Centre for Biodiversity,and the International Federation of Red Cross and Red Crescent Societies (IFRC) jointly held the two-hour virtual event.
It presented ASEAN youths contributions to COVID-19 response at the community level.
The first session named The Conversation featured four young front-liners challenges and insightful experiences while serving their communities.
Angga Dwi Martha from the ASEAN Youth Interface with ASEAN Leaders at the 36th ASEAN Summit moderated the webinar.
Martha, who is also involved in the Indonesian Task Force on the Acceleration of COVID-19 Response, moderated a panel which consisted of ASEAN young frontliners: Marlon Palarion, Dwi Riyan, Nattasuang Phakkawan, and Phan Van Quyen.
Palarion is a licensed medical technologist at the Philippine Red Cross, currently deployed as a supervisor in a molecular laboratory for COVID-19 testing in Cebu. At the session, he underlined that living in an archipelago, there are so many people that we have to reach in different places and test for the possibility of COVID-19 infection. He managed to help set up laboratories in different places across the country during the pandemic.
Dwi Riyan, an environmental educator and the 2020 ASEAN Youth Biodiversity Leader from Indonesia, shared insightful perspectives on how youth can take part in preventing future pandemics by preserving biodiversity and wildlife ecosystems.
Riyan emphasised that protecting ecosystems would be the best vaccine for the future. The combination of shrinking habitats and increased unmanaged contact between human and animals contributes to the emergence of an outbreak, he added.
Meanwhile, Phakkawan, an active volunteer for more than ten years, has been raising awareness on COVID-19 and personal hygiene by producing informative songs and music videos with the Thai Red Cross Youth Bureau.
In Viet Nam, Phan set up a virtual platform for online vacations in an effort to support ethnic minorities affected by the declining tourism industry. Through this initiative, individuals who are currently unable to travel can still learn about Vietnamese local culture and purchase the local products made by the countrys various ethnic minorities.
Dr. Ha Thi Minh Duc from Viet Nam s Labour, Invalids and Social Affairs Ministry representing the Senior Officials Committee for the ASEAN Socio-Cultural Community (SOCA) Chair, Somkiao Kingsada of Lao Youth Union and Chair of the ASEAN Senior Officials Meeting on Youth; and Dr. Mohamed Maliki Mohamed Rapiee from Malaysia s Youth and Sports Ministry representing the Vice-Chair of SOMY, participated as commentators.
Youth nowadays have global mindsets, are more knowledgeable, and passionate to serve the community a very good combination. The ASEAN Socio-Cultural Community (ASCC) always values the contribution of youth in realising a people-centred and people-oriented community, stated Dr. Duc.
Youth representatives of the Red Cross Red Crescent Movement led the second session of the webinar, a Fun Lecture titled Build Back Better: YOU(th) need to adapt! . The session focused on the importance of adaptability and resilience as life skills for youth.
Cheng Yang Chong, a 23-year-old Malaysian Red Crescent Society Youth Volunteer and Co-Chair of the RCRC Southeast Asia Youth Network guided the participants in an exercise on how to listen to one s inner voice and develop self-awareness.
During this session, IFRC Youth Delegate for ASEAN Francesca Capoluongo shared her advice on how to develop resilience. She also shared information regarding the Youth as Agents of Behavioural Change programme, an IFRC flagship initiative to promote a culture of non-violence and peace. This first episode of the webinar series was hosted on Zoom and live streamed on ASEAN Secretariat s Facebook Page with 469 live viewers combined. In 48 hours, the Webinar reached over 36,000 viewers on Facebook from across the worldwide. Over 85% of Zoom participants are youth aged 15-35 years old and around 60% identified themselves as students.
The Interactive Webinar Series is part of the ASCC COVID-19 Webinar Series with the overarching theme The Impact of COVID-19 on ASCC Sectors and Post COVID-19 Strategies, co-led by the SOCA Viet Nam and ASEAN Secretariat.
This initiative is expected to contribute to the implementation of the ASEAN Work Plan on Youth 2021 2025, the ASEAN Working Group on Nature Conservation and Biodiversity Action Plan in mainstreaming biodiversity in human health and wellbeing, and the ASEAN Working Group on Environmental Education Action Plan in fostering active participation of empowered youth in promoting environmental protection.
The next episode of the Webinar Series is scheduled this month, in commemoration of ASEAN Day and International Youth Day. The theme is #ASEANYouth and the Wise on Resilience in Adversity and will feature an inter-generational panel.
The recorded live stream of the first episode can be accessed at [https://www.facebook.com/aseansecretariat/videos/717771739076440/ vh=e&extid=dzVAnlwAldIMDMYH&d=n]