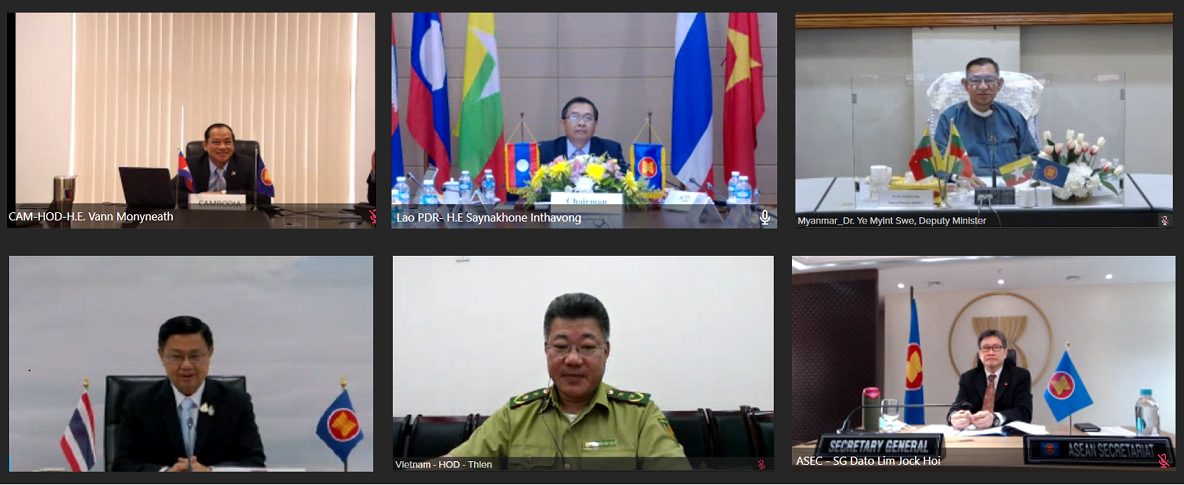 The Ninth Meeting of the Sub-Regional Ministerial Steering Committee on Transboundary Haze Pollution in the Mekong Sub-Region (9th MSC Mekong) was held on 14 August 2020 through Video Conference. The Meeting was attended by Ministers/representatives responsible for land, forest fires and haze from Cambodia, Lao PDR, Myanmar, Thailand, and Viet Nam, and the Secretary-General of ASEAN, under the Chairpersonship of H.E. Dr. Saynakhone Inthavong, Vice Minister, Ministry of Natural Resources and Environment of Lao PDR. The Fifteenth Meeting of the Technical Working Group on Transboundary Haze Pollution in the Mekong Sub-Region (15th TWG Mekong) preceded the Meeting.
The Ministers expressed concern over the transboundary haze pollution which occurred in the northern part of the ASEAN region early this year and affected the air quality up to very unhealthy level. The Ministers appreciated the tireless commitment and efforts by the respective MSC Mekong countries to mitigate and suppress fire and haze incidents and the collaborative efforts undertaken through the convening of the Teleconference Meeting on Smoke Haze Incident in Mekong Sub-region on 3 April 2020.
Download the Full Media Release here.