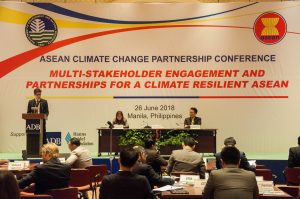 Manila, 26 June 2018
For the first time, ASEAN Climate Change Partnership Conference was held under the auspices of the ASEAN Working Group on Climate Change (AWGCC) on 26 June 2018 in Manila, Philippines. The Conference brought together over 60 representatives from various ASEAN sectoral bodies, dialogue and development partners, as well as private sector, with a view to enhancing ASEAN-wide cross-sectoral and multi-partner coordination in addressing climate change issues in the region. Recognising the multifaceted climate change issues in ASEAN, the Conference focused on the theme Multistakeholder Engagement and Partnerships for a Climate Resilient ASEAN, and provided a platform for exploring cross-sectoral awareness and coordination among ASEAN Sectoral bodies and Partners in implementing their climate change activities/projects.
Undersecretary for Climate Change from the Department of Environment and Natural Resources (DENR) of the Philippines, Atty. Analiza Rebuelta-Teh, in her welcoming remarks underlined this multi-stakeholder forum as an urgent call for ASEAN partners to take concrete actions in tackling climate change. Meanwhile, the Secretary-General of ASEAN, H.E Dato Lim Jock Hoi, through his video message called all stakeholders in the region to transform the business-as-usual development approach into a climate-sensitive one, and rally support to take action and explore possible means to foster low carbon and climate resilient strategies in the development process. The Chairperson of AWGCC, Mr. Cheang Kok Chung, stated that over the last three years, AWGCC together with Partners have been working to implement its ambitious Action Plan, and through this Conference he looked forward for any collaboration across concerned sectors in multiplying resources to effectively tackle multifaceted issues of climate change.
The Conference was hosted by the Department of Environment and Natural Resources of the Philippines (DENR), and was made possible through a seamless coordination among DENR, National Environment Agency of Singapore (NEA) as Chair of AWGCC, and ASEAN Secretariat, with generous support from the Asian Development Bank, and the Hanns Seidel Foundation Indonesia Office.
The next Conference will be held, tentatively, in Singapore in 2019.
#####