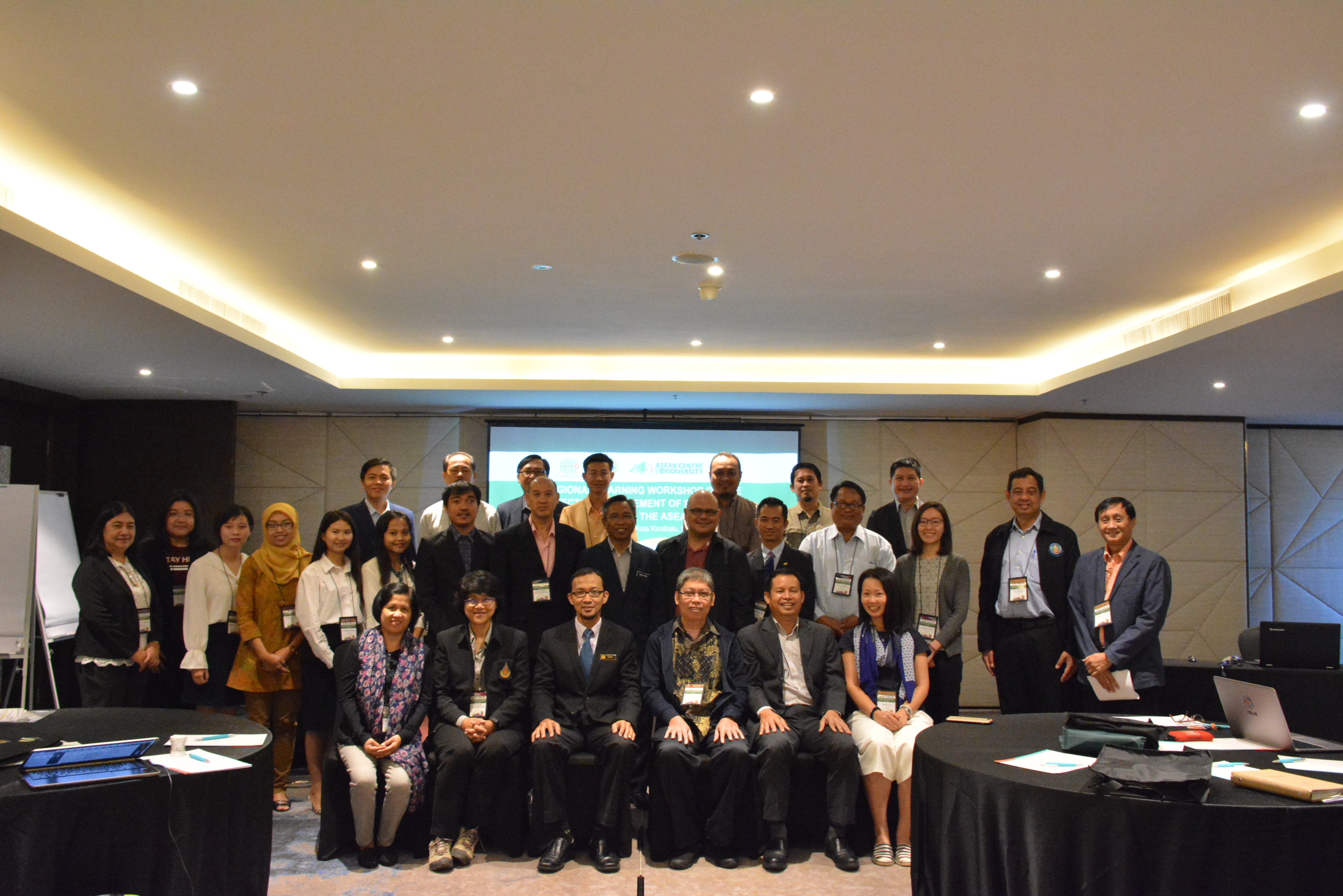 Eleven managers and senior staff of the ASEAN region's best nature parks gathered in Kota Kinabalu, Sabah, Malaysia from 25 to 28 June 2019 to share good practices in effective parks management. Through a Regional Learning Workshop on the Effective Management of Protected Areas organised by the ASEAN Centre for Biodiversity (ACB), the managers and senior staff involved in the management of ASEAN Heritage Parks (AHPs) and protected areas learned the elements and principles of ecotourism, as well as policies and standards of ecotourism as practiced in selected AHPs through sharing of experiences and lessons learned on recreation, tourism, and ecotourism.
Funded by the Government of Japan through the Japan-ASEAN Integrated Fund and conducted in cooperation with Sabah Parks and the Biodiversity and Forestry Management Division of the Ministry of Water, Land and Natural Resources (KATS) of Malaysia, the workshop equipped the participants with awareness and understanding on networking strategies for effective implementation of database management and strategies to promote their parks; and familiarised the participants with the ASEAN approach in parks management and how multiple stakeholders manage protected areas through participatory processes.
Highlighting the opening ceremonies were welcome messages by Dr. Jamili Nais, Director, Sabah Parks; Undersecretary Dato Wan Mazlan Bin Wan Mahmood, Biodiversity and Forestry Management Division, KATS; and ACB Executive Director Dr. Theresa Mundita S. Lim.
Resource speakers included Dr. Filiberto Pollisco, Jr. and Mr. Rolando Inciong, ACB Programme Specialist and Public Relations Consultant, respectively; Dr. Nasrul Bin Menhat, Head, Protected Areas Unit, Biodiversity and Forestry Management Division, KATS; Dr. Maklarin Lakim, Deputy Director, Sabah Parks; Mr. Yassi Miki, Park Manager, Kinabalu National Park; Mr. Sithisack Paninhuan, Deputy Director, Nam Ha National Protected Area; Dr. Rogelio Andrada II, Head, Botanic Gardens, Makiling Center for Mountain Ecosystem; Mr. Alain Quesea, Chief, Tourism Division, Department of Tourism, Philippines; and Dr. Ratchada Pongsattayapipat, Director, Sanga Sabhasri Research and Development Center, Queen Sirikit Botanic Garden.
Participants included Mr. Hour Thanit and Ms. Phallis Eang, Department of Freshwater Wetlands Conservation, Ministry of Environment, Cambodia; Ms. Bun Dalin, Department of Southern Tonle Sap Terrestrial Protected Areas, Ministry of Environment, Cambodia; Ms. Rika Sandra Dewi, Ministry of Forestry, Indonesia; Mr. Iqbal Abadi Rasjid, Bantimurung Bulusaraung National Park, Ministry of Environment and Forestry, Indonesia; Mr. Veosavanh Saysavanh, Department of Forestry, Ministry of Agriculture and Forestry, Lao PDR; Mr. Sithisack Paninhuan, Nam Ha National Protected Area, Department of Agriculture and Forestry, Luang Nam Tha Province, Lao PDR; Mr. Khalid Zahrom, Johor National Parks Corporation, Malaysia; Mr. Azrul Bin Abd Manan, Department of Wildlife and National Parks, Peninsular Malaysia; Mr. Justinus Guntabid and Mr. Kenneth Condrad Sion, Sabah Parks, Malaysia; Mr. Myo Min Latt, University of Forestry and Environmental Science, Yezin, Nay Pyi Taw, Myanmar; Mr. Maung Win, Nature and Wildlife Conservation Division, Forest Department, Myanmar; Dr. Rogelio Andrada II, Makiling Botanic Garden, College of Forestry and Natural Resources, University of the Philippines Los Baños, Philippines; Ms. Florence Sim and Ms. Chenny Li, National Parks Board, Singapore; Mr. Cholathorn Chamnankid and Dr. Chaturathep Khowinthawong, Department of National Parks, Wildlife and Plant Conservation, Ministry of Natural Resources and Environment, Thailand; and Mr. Le Hoang Son, Sao La Protected Area, Quang Nam Province and Ms. Nguyen Thi Hai Yen, Biodiversity Conservation Agency (BCA), Vietnam Environment Administration, Ministry of Natural Resources and Environment, Viet Nam.
At the end of the workshop, the participants crafted their respective countries' communication, education, and public awareness strategies in promoting and advocating biodiversity conservation through their nature parks, focusing on engaging different sectors of government and society and emphasising that conservation is a shared responsibility.
Participants visited the Tunku Abdul Rahman National Park and the Kinabalu National Park – both nature parks are known for good practices in implementing sustainability mechanisms, ecosystem-based approach, multi-stakeholder cooperation, and biodiversity information management.
The Tunku Abdul Rahman Park is a state park located in Gaya Bay, three kilometres offshore from Kota Kinabalu. Named after Malaysia's first Prime Minister, Tunku Abdul Rahman, it was gazetted in 1974 as Sabah's second national park. The park, which covers an area of 50 square kilometres comprising five islands, their surrounding reefs, and sea, has good programmes to protect fauna, flora, and marine ecosystems. Geologically, the islands are part of the Crocker Range but became isolated from the massif when sea levels rose after the last ice age. There is also a jungle trail located at Base Camp in Pulau Gaya. The trail that stretches around half a kilometre is enough to generally educate visitors on various aspects of the marsh jungle.
The names of the islands are symbolic of their history and early discoverers. The islands are Pulau Gaya ('big'), Manukan ('fish'), Mamutik ('shell collection'), Sapi (the sound of a mowing buffalo), and Sulug (commemorating the ancestry of the Sulu peoples of Sabah). Initially, the park covered two islands – Gaya and Sapi. In 1979, the park's boundaries expanded to include three other islands: Manukan, Sulug, and Mamutik. The administrative centre of Tunku Abdul Rahman Park is in Manukan island, although each of the five islands has its own administrative offices.
The Kinabalu National Park, with a total area of 75,370 hectares, is an outstanding example of a diverse landscape that appeals to adventurous travelers, tourists, and researchers alike. Its headquarters and several substations along its boundaries offer easy access to the challenging Mt. Kinabalu Summit Route, various botanical gardens, nature trails, and waterfalls while researchers venture further into its deep rainforest to discover even more of the park's rich biodiversity and ecosystems. Mt. Kinabalu is one of the youngest volcanic mountains in the world and was formed within the last 10 to 35 million years. Standing at 4,095 metres, it is the focal point of the park and one of the most accessible mountains in the world.
The different vegetation zones at Kinabalu National Park range from lowland dipterocarp forest to lower montane oak-chestnut forest, upper montane or cloud forest, and subalpine meadow near the summit plateau of Mt. Kinabalu. The botanical sites contain a variety of flora and fauna that ranges over four climate zones from rich lowland dipterocarp forest to alpine meadow plants, and finally the stunted bushes of the summit zone. The mountain is also known for its many carnivorous plants and orchid species, most notable the Nepenthes rajah. It is also home to a multitude of endemic animal species, including the Kinabalu Giant Red Leech and Kinabalu Giant Earthworm. The park also plays host to a variety of birds, insects, mammals, amphibians, and reptiles.