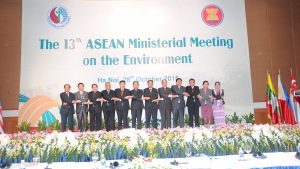 28 October 2015, Ha Noi, Viet Nam
Ministers responsible for the environment from ASEAN Member States (AMS) held their 13th ASEAN Ministerial Meeting on the Environment on 28 October 2015 in Ha Noi, Viet Nam. The Ministers reviewed regional cooperation on a number of environmental issues, in particular actions taken on environmental sustainability under the ASEAN Socio-Cultural Community (ASCC) Blueprint, and discussed new initiatives to further promote regional environmental cooperation.
The Ministers expressed concern and sympathy to the people of Philippines following Typhoon Koppu which has brought torrential rains, flooding and landslides, and forced more than 100,000 people into evacuation centres. The Ministers also expressed concern and sympathy to the people of Myanmar suffering from the extreme flood during Komen Typhoon from July to September 2015.
The Ministers appreciated the initiative by Viet Nam to develop a Declaration on ASEAN Post-2015 Environmental Sustainability and Climate Change Agenda for adoption at the 27th ASEAN Summit to reiterate ASEAN's commitment and frame ASEAN's existing and emerging environment and climate change challenges that need to be addressed toward achieving the Post-2015 Vision goals, amidst the current state of the global development.
In view of the Post-2015 Vision, the Ministers supported the development of the ASEAN Strategic Plan of Action on Environmental Cooperation (ASPAPEC), the Roadmap for Haze-Free ASEAN; the 5th ASEAN State of Environment Report, and the ASEAN-UN Post-2015 Environment and Climate Change work plan.
The Ministers endorsed the nomination of Mt. Timpoong Hibok-Hibok National Park in Philippines and Way Kambas National Park in Indonesia as the 36th and 37th ASEAN Heritage Parks respectively. They joined a regional network of national protected areas of high conservation importance preserving a complete spectrum of representative ecosystem to generate greater awareness, pride, appreciation, enjoyment, and conservation of ASEAN's rich natural heritage.
The Ministers endorsed the ASEAN Integrated Water Resources Management (IWRM) Performance Monitoring Indicators Framework, to serve as simple performance monitoring tools for ASEAN to use in assessing progress in the achievement of IWRM across the region.
The Ministers looked forward to a successful outcome of the UNFCCC negotiation in Paris Climate Change Conference on 30 November-11 December 2015.
The Ministers met their counterparts from the People's Republic of China, Japan and Republic of Korea at the 14th ASEAN Plus Three Environment Ministers Meeting on 29 October 2015 to review current activities and discuss future cooperation on areas such as biodiversity, climate change, environmental education, environmental science and technology, and environmentally sustainable cities.
The Ministers responsible for the environment will meet again in Brunei Darussalam in 2017 on the occasion of the 14th ASEAN Ministerial Meeting on the Environment.