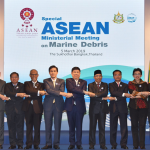 Ministers and representatives responsible for natural resources, environment and marine affairs from the ASEAN Member States, met in Bangkok, Thailand, on 5 March 2019 to attend the Special ASEAN Ministerial Meeting on Marine Debris (SAMM-MD). The Meeting was chaired by H.E. General Surasak Karnjanarat, Minister of Natural Resources and Environment, Thailand.

The Meeting was an initiative of Thailand, as the Chair of ASEAN in 2019, to provide ASEAN a platform to explore and pursue concrete actions on combating marine debris and strengthen collaboration between ASEAN and supportive partners to address marine debris issues in the region effectively.
Download the full statement here.