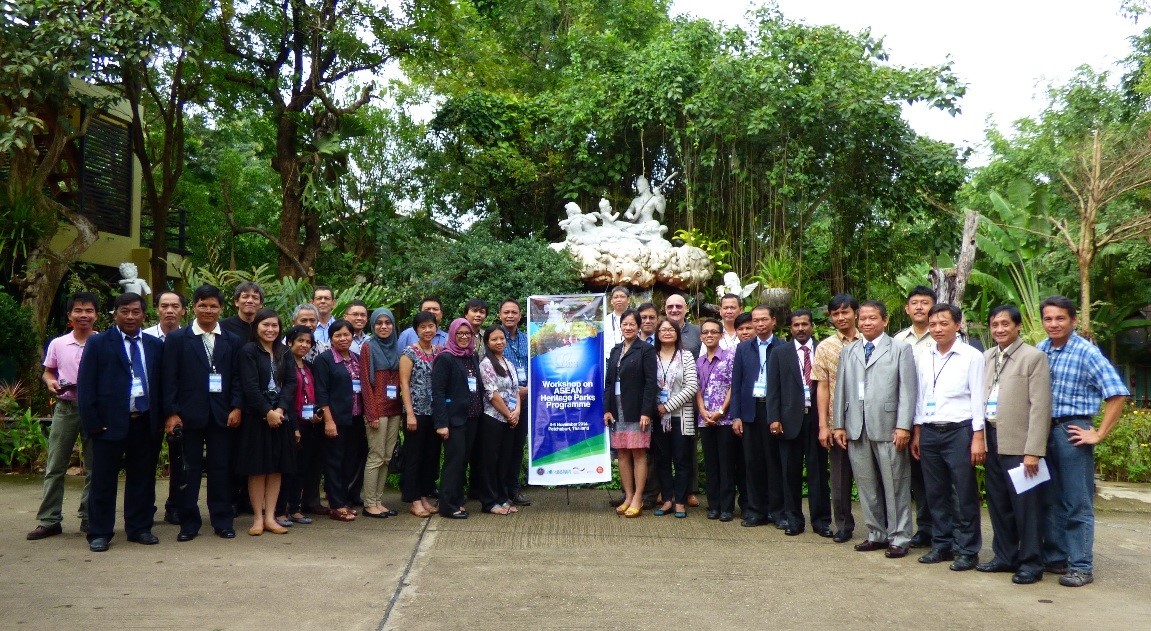 [Kaeng Krachan, Thailand] – Twenty-five protected area management experts from the 10 ASEAN Member States met on November 4-6, 2014 in Petchaburi, Thailand to discuss ways to further strengthen the network of ASEAN Heritage Parks – protected areas that are home for some of the world's most enigmatic species and harbor a globally significant wealth of biodiversity. Organized by the ASEAN Centre for Biodiversity (ACB) and hosted by the Department of National Parks, Wildlife and Plant Conservation (DNP) of Thailand, the Workshop on the ASEAN Heritage Parks (AHP) Programme was supported by Germany, through the ACB-GIZ Biodiversity and Climate Change Project (BCCP).
The participants reported on the status of AHPs in their respective countries; discussed the institutional setup of the AHP Programme; reviewed the criteria for nomination of new AHPs; determined the capacity building and funding needs of AHPs; scrutinized the monitoring and evaluation system and the AHP regional action plan 2014-2020; and recommend ways forward for the AHP Programme. After the workshop, the participants visited Kaeng Krachan National Park, one of Thailand's four AHPs.
At the opening ceremony, Ms. Clarissa Arida, director for programme development and implementation, ACB, said that although the AHPs are rich in biodiversity, the biodiversity resources in these parks are threatened with various drivers of biodiversity loss which include, among others, habitat destruction and fragmentation, climate change, introduction of alien invasive species, unsustainable use and over-exploitation, and pollution. She emphasized the urgent need to effectively manage the AHPs to ensure biodiversity conservation.
The opening ceremony was also addressed by Ms. Sunee Sukseva, representative of Director General Niphon Chotibal, DNP; Ms. Mardiah Hayati, technical officer, socio-cultural community department, ASEAN Secretariat; and Dr. Berthold Seibert, project director, BCCP.
Resource speakers included Dr. Dicky Simorangkir, BCP Senior Advisor; Dr. Monina Uriarte, BCCP consultant; Dr. Filiberto Pollisco, Jr., ACB policy and research specialist; and Mr. Norman Ramirez, ACB capacity development specialist. Facilitator was Dr. Rahimatsah Ahmat, chief executive officer, Sabah Environmental Trust.
In 1984, the ASEAN Experts on the Environment noticed the uniqueness, diversity and outstanding values of some of the more than 1,300 protected areas in the region. They agreed to give recognition to 11 protected areas to conserve their conservation values and introduce them regionally and internationally; they termed the protected areas as ASEAN Heritage Parks. With the signing of the ASEAN Declaration on Heritage Parks on 18 December 2003, another 17 were added to the list. Today, Southeast Asia has 35 AHPs: Brunei Darussalam, one; Cambodia, two; Indonesia, three; Lao PDR, one; Malaysia, three; Myanmar, seven; Philippines, seven; Singapore, two; Thailand, four; and Viet Nam, five.
For more info on ASEAN Heritage Parks Programme, please click here.