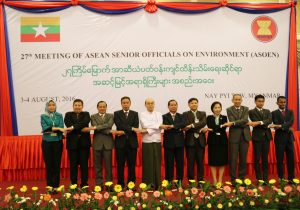 NAY PYI TAW, 9 August 2016 – The 27th Meeting of ASEAN Senior Officials on Environment (ASOEN), which was held back-to-back with the 38th Governing Board Meeting of the ASEAN Centre for Biodiversity (ACB), kicked off in Nay Pyi Taw on 1 August. Participants from all ASEAN Member States attended the four-day meeting.
During the opening, U Khin Maung Yi, the Permanent Secretary of Ministry of Natural Resources and Environmental Conservation of Myanmar reaffirmed that ASEAN Vision 2025 calls for clean and green ASEAN to achieve sustainable development by ensuring protection of the region's environment. The ASEAN Socio-Cultural Community (ASCC) Blueprint 2016-2025 also stressed the importance of sustainable development by identifying many key indicators such as sustainable climate as well as sustainable consumption and production.
The meeting focused on the current pressing environment issues of the region. The key outcomes of the meeting include the final drafts of the ASEAN Joint Statements on Biological Diversity and Climate Change. Both statements will be presented to ASEAN Leaders at the upcoming ASEAN Summit in Vientiane, Lao PDR in September. The statements would ensure ASEAN's strong commitment on conserving biodiversity and on synergizing the efforts to tackle climate change issue. The Joint Statements will be read at the thirteenth meeting of the Conference of the Parties to the Convention on Biological Diversity (CBD COP-13) in Cancun, Mexico later this year in December, and the United Nations Framework Convention on Climate Change COP-22 in Marrakesh, Morocco in November, which are both global stages of highlights in the environment field.
The Bai Tu Long National Park of Viet Nam was also endorsed as the 38th ASEAN Heritage Park, which is a flagship programme for ASEAN on protected area management. The ASEAN Heritage Park is an example of a programme that shows how people could live harmoniously with the environment. The programme brings together experts in the field to work with communities around the parks and this shows how all sectors must work together to conserve environment.
The Meeting also discussed the way forward for the next ASEAN Ministerial Meeting on Environment (AMME) to be held in Brunei Darussalam in 2017 – the year that ASEAN will mark its 50th anniversary. To commemorate another important milestone of ASEAN, ASOEN will launch the 5th State of Environmental Report (SoER5) together with the initiative of ASEAN Biodiversity Champions to capture ASEAN's success in environment field.