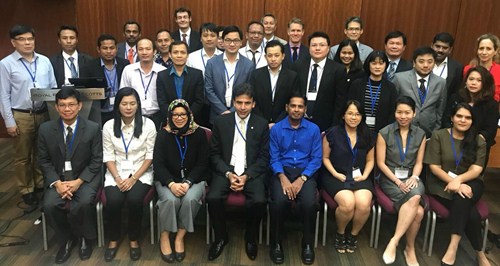 At a recent event in Singapore supported by UN Climate Change, ASEAN Member States, have agreed to explore the possibility of developing a harmonized approach to measuring, reporting and verifying greenhouse gas emissions as a first step towards further regional collaboration on carbon markets.
Under the Paris Climate Change Agreement of 2015, countries agreed to limit the rise in global average temperature well below 2 degrees Celsius by curbing their carbon emissions, as detailed in their national climate action plans. Transparency in climate action is central to achieving the overarching goal of the Paris Agreement.
Incorporating economic and market instrument, such as: carbon pricing approaches, carbon markets, carbon taxes and domestic carbon funds - in national climate policies offers a long-term solution to achieving emissions reduction targets and to incentivize low carbon growth.
At the workshop in Singapore, global experts on carbon pricing instruments shared information and exchanged views with the participants to give a better understanding of the market-based instruments to support the efforts of respective member states in meeting their emission reduction targets in a cost-effective manner.
Greater Transparency Can Lower Emissions and Costs
ASEAN Member States are looking at effective and applicable monitoring and reporting of carbon emissions as an opportunity to spur investment in the region, and at the same time achieve emission reductions at lower costs.
As part of the national climate action plans countries have agreed to properly and accurately measure domestic emissions and track their progress towards reducing them. Robust measurement, reporting, and verification (MRV) is the foundation of transparent and accountable climate action.
A harmonized regional MRV system in ASEAN may open new doors, allowing countries to take advantage of global carbon markets as a region.
Ms. Mardiah Hayati, the representative of the ASEAN Secretariat confirmed her organizations support for regional collaboration on carbon markets. Of course, there is a value in collaboration, and further to that we have been mandated to do so by the priorities set out in our action plan. One of the activities under mitigation that ASEAN Member States have decided is to explore the possibility to develop carbon cap and trade, including carbon pricing system in the region.
During the workshop, the participants also shared their expectations about market-based instruments in their countries and discussed the need for capacity building to implement such measures.
Mr. Nicolas Muller, who coordinates the initiative Collaborative Instruments for Ambitious Climate Action (CI-ACA), said the region is interested in working on building roads that are not drifting apart but coming together. Everybody has a different starting point of course, but cooperation is possible - the countries here can walk the same road.
About the Singapore Workshop
The workshop was organized in partnership by the National Environment Agency of Singapore and the CI-ACA initiative of United Nations Climate Change, which is operationalized in the region through their Regional Collaboration Centre for Asia and the Pacific. The workshop was made possible thanks to the support provided by the Government of Germany, Norway, Sweden,?and Switzerland to the CI-ACA initiative.
A meeting to develop the work plan for harmonizing MRV systems is expected to be held in the first quarter of 2018. The work plan will then be presented to the ASEAN Working Group for Climate Change for consideration later in the year at their 9th Annual Meeting in the Philippines.
With 10 member states, ASEAN is a political and economic organization aimed at promoting economic growth and regional stability among its members.
Workshop participants
The Regional Collaboration Centre (RCC) Bangkok was established in September of 2015 by United Nations Climate Change and the Institute for Global Development Strategies (IGES) to provide hands-on support to governments, NGOs, and the private sector in Asia and the Pacific region to develop their mitigation efforts through capacity building, direct technical assistance, and strategic networking - sourcing the know-how and resources to drive clean development.
This article appeared originally on UNFCCC News

+++