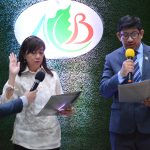 LOS BANOS, 19 April 2018
The ASEAN Centre for Biodiversity (ACB) named Dr. Theresa Mundita Lim as its new Executive Director. The turnover and oath-taking ceremony for the new Executive Director was held at the ACB Headquarters in Los Banos, Laguna, Philippines on 17 April.
Dr. Lim, in her acceptance speech, shared with the guests the plans she has for ACB, and how she intended to perform her duties. We need to continue our resiliency in our conservation efforts, she said, as she named the thrusts of her administration. We should innovate on how we can mainstream biodiversity, how we can reach out and engage as many sectors as we can, and how we can influence our leaders to use science as basis for policy and decision-making.
The ceremony was attended by dignitaries from various organizations, such as Dr. Megat Sany Megat Ahmad Supian, Undersecretary of the Biodiversity and Forestry Management Division of Malaysias Ministry of Natural Resources and Environment; Dr. Vong Sok, Assistant Director and Head of the Environment Division of the ASEAN Secretariat; Mr. Aian Caringal, Director of the ASEAN Socio-Cultural Community, Office of ASEAN Affairs, Department of Foreign Affairs; Dr. Gil C. Saguiguit, Jr., Director of Science Education for Agriculture and Development; Ms. Aimee Gonzales, Executive Director of Partnerships in Environmental Management for the Seas of East Asia; and Mr. Giovanni Serritella, Attach Manager for Environment and Climate Change, Delegation of the European Union to the Philippines.
The threats to biodiversity continue. We cannot rest; rather, we must continue to move forward, Atty. Roberto Oliva, the outgoing ACB Executive Director, said during his final speech.
It is hard for me to do justice to all that he has achieved during his term,Mr. Serritella remarked in his message during the ceremony. Mr. Oliva leaves a huge legacy behind, a legacy of an ASEAN Centre for Biodiversity that transformed over the years. From a project into an agency, and under his leadership, into a sustainable institution, he continued.
Dr. Sok also extended his congratulations to the new Executive Director. We firmly believe in your capability, given your previous experience and familiarity with the issue of nature conservation and biodiversity in ASEAN and global fora. We are confident that you will carry the torch with your passion and commitment.
To formally turnover the centre's leadership, Atty. Oliva handed a symbolic key to Dr. Lim followed by the oath-taking ceremony which was officiated by Dr. Megat.
Previously the highest official of the Biodiversity Management Bureau of DENR, Dr. Lim went through a selection process that involved officials from the ASEAN Members States and ASEAN Secretariat and lasted for several months.
A licensed veterinarian from the University of the Philippines, Dr. Lim started her career at DENR with the Marine Turtle Conservation Program. In just 14 years, she rose to the position of Director of the Biodiversity Management Bureau, where her responsibilities included guiding national directions on protected areas and wildlife conservation, and closely working with the Philippine Congress on legislative priorities for conservation and sustainable management of biodiversity in the country, among others.
Dr. Lim also has extensive international experience on technical and policy advisory for biodiversity and environmental management, with recent ones including chairing the 18th Meeting of the ASEAN Working Group on Coastal and Marine Environment in May 2017, as well as the Convention on Biological Diversity Subsidiary Body on Scientific, Technical and Technological Advice for 2017-2018.
Dr. Lim is the fourth Executive Director of ACB and is the first female to take the position.
# # #