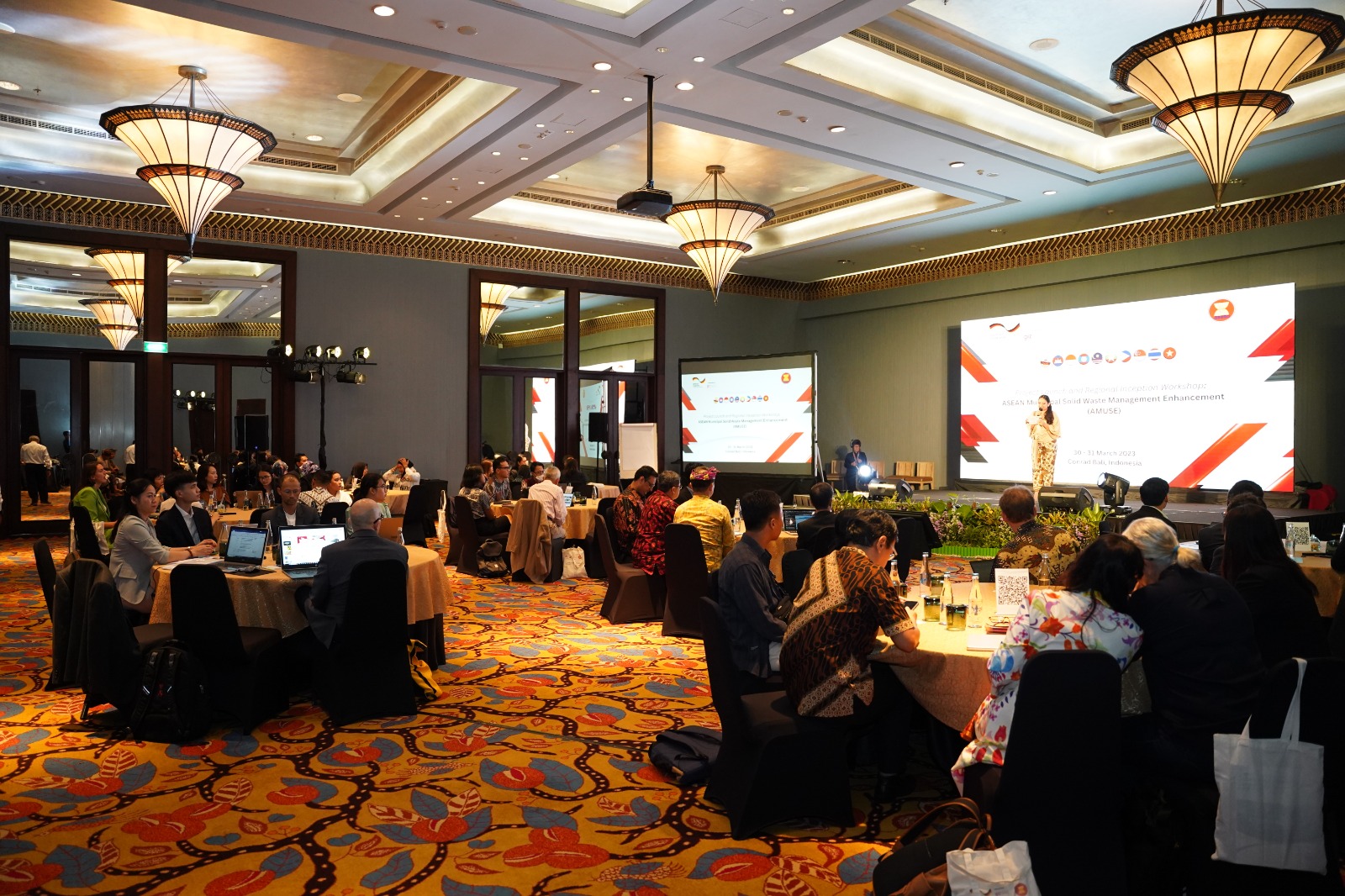 BALI, 30 March 2023 – Today, ASEAN celebrated International Day of Zero Waste by launching a three-year regional project called Municipal Waste Management Enhancement (AMUSE).
Supported by German Development Cooperation Agency, Deutsche Gesellschaft für Internationale Zusammenarbeit (GIZ) GmbH, the project aims to improve municipal solid waste management and to promote circular economy-oriented and sustainable tourism in focal partner countries such as Cambodia, Lao PDR, Thailand and Viet Nam.
"The project is proof of ASEAN's commitment and collective action to improving solid waste management in the region," said Deputy Secretary-General of ASEAN for Socio-Cultural Community Ekkaphab Phanthavong. He added, "the project will contribute to the implementation of the ASEAN Regional Action Plan on Combating Marine Debris."
The AMUSE project represents another milestone in the ASEAN-Germany Development Partnership. In her welcome note, Ambassador of Germany to ASEAN Ina Lepel emphasized ASEAN's importance as a partner of the Government of Germany. "ASEAN is one of the fastest growing regions in the world with population growth averaging 1.6% annually. The region's cities face a major challenge in providing adequate basic services to keep up with this growth while protecting the environment," she stated.
The project is an example of community-level action employing a cross-sectoral approach on sustainable and inclusive development in alignment with a regional strategy.
Dr. Novrizal Tahar, Director of Solid Waste Management in the Ministry of Environment and Forestry, Indonesia explained that although ASEAN has experienced some of the fastest economic growth in the world over the past decade, it is still struggling to maintain the environmental situation in modern society, where food and plastic waste predominate.
Many regional tourism cities that grew fast in the last decades have now focused on green and sustainable tourism in which waste management is key. According to the ASEAN Regional Action Plan on Combatting Marine Debris in ASEAN Member States (2021-2025), around 50% of solid waste remain uncollected and unrecycled.
Mr I Nyoman Suwirta, Head of Klungkung District, Bali introduced his own waste management program, known as Tempat Olah Sampah Setempat (TOSS), which has been implemented since 2017 in Klungkung Regency and is coherent with AMUSE's vision and mission.
The event was finally opened by Nguyen Minh Cuong, Chair of ASEAN Working Group on Environmentally Sustainable Cities (AWGESC). In his opening remarks he emphasized the importance of the project. "With technical cooperation from AMUSE, we can expect regional dialogue formats for improved cooperation and knowledge exchange between AMS and their waste and tourism sectors".
The launch featured presentations of stakeholders from public and private sectors on cross-cutting topics such as gender sensitivity and private sector involvement and innovative solutions to address the pressing challenges in waste management and sustainable tourism.
It was held in conjunction with a Project Inception Workshop and the pre-Project Steering Committee Meeting to discuss project prioritization, approach, and work plan. The participants from the ASEAN Working Group on Environmentally Sustainable Cities, ASEAN Secretariat, Embassy of Germany, GIZ, private sectors and NGO/CSO attended the event.
About German Development Agency GIZ
GIZ is a service provider in the field of international cooperation for sustainable development and international education work, with over 50 years of experience in a wide variety of areas. In Indonesia, GIZ works on behalf of the German Federal Ministry of Economic Cooperation and Development. Other commission parties include the German Federal Ministry for the Environment, Nature Conservation, Nuclear Safety and Consumer Protection (BMUV), the German Federal Foreign Office and the European Union.

For project queries:
Shameer Khanal
Lead Advisor/Cluster Coordinator ASEAN
ASEAN Municipal Solid Waste Management Enhancement (AMUSE)
E – shameer.khanal@giz.de