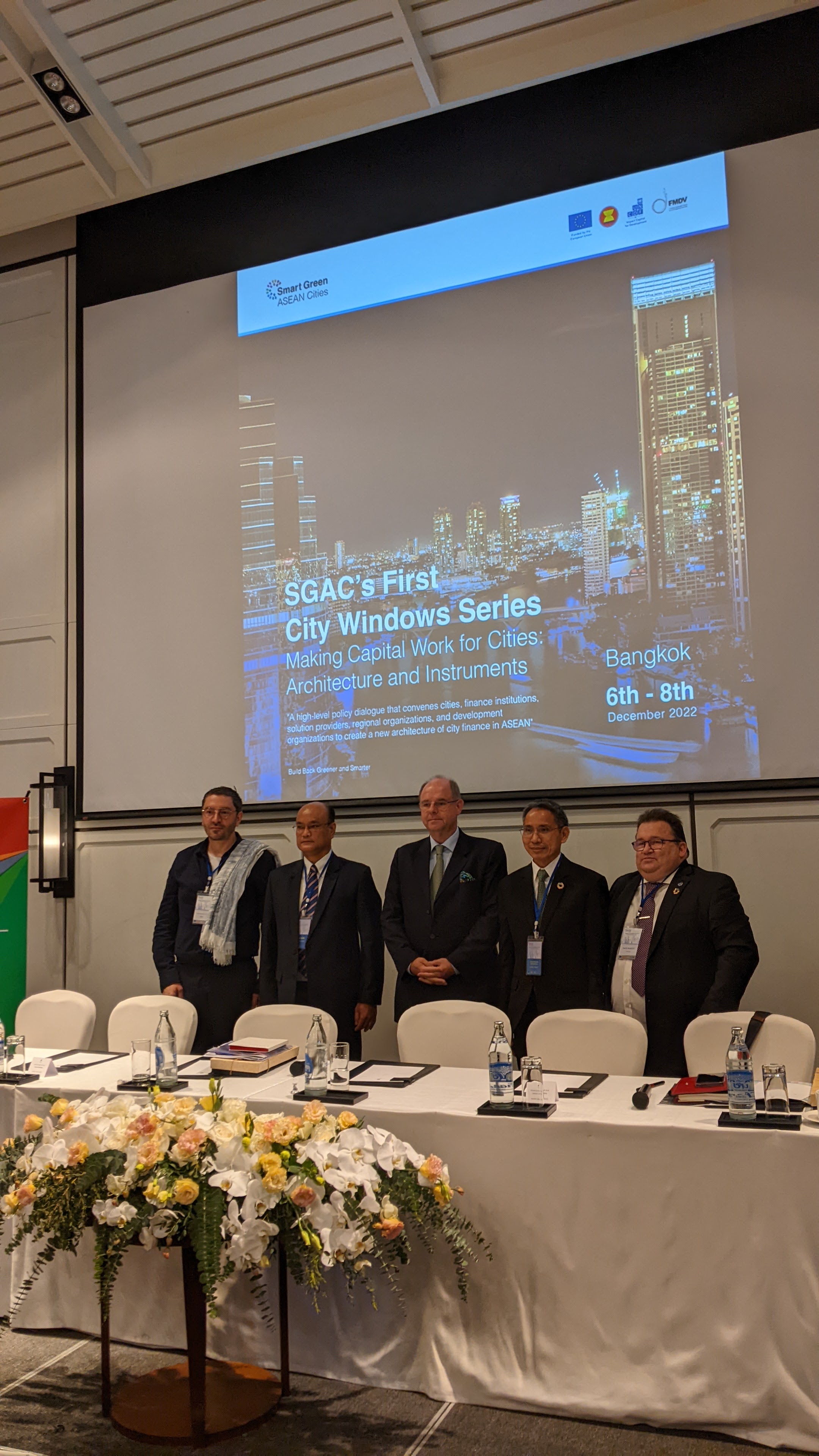 Bangkok, 7 December 2022 – Today, Deputy Permanent Secretary of Ministry of Natural Resources and Environment (MONRE), Mr. Thalerngsak Petchsuwan, Minister Counsellor and Head of Cooperation, European Union (EU) Delegation to Thailand, Mr. Daniel Hachez, the Head of Environment Division of ASEAN Secretariat, Dr Vong Sok, and UN Capital Development Fund (UNCDF) Director of Local Development Finance, David Jackson, kicked off the Smart and Green ASEAN Cities (SGAC) Programme first City Windows Series held in the format of Policy Dialogue, in Bangkok, Thailand, from 6th -8 th December, 2022.
Smart Green ASEAN Cities programme aims to support ASEAN Member States to anticipate the substantial pressure from the high urbanisation rates by focusing on green and smart solutions through digitalisation and use of technologies.
As a programme that is designed to leverage previous smart and green cities initiatives in the region, SGAC focuses on introducing and developing innovative financing solutions for smart green city investments. The programme works with all ASEAN Member States (AMS) to help national and local governments harmonize their smart city policy agendas, create new city investment environments, link solutions providers to city management teams and provide transaction advisory to pilot innovative financing mechanisms that can take city investments to scale.
A series of four – (4) high-level events (City Windows Series) are planned for the duration of the project cycle and will be organized to accommodate a systematic approach to smart green city sustainable financing and the development of a global city financing architecture that works for cities.
Mr. Thalerngsak Petchsuwan, Deputy Permanent Secretary of MONRE, stresses the importance of extending collaboration and cooperation with domestic and international partners in advancing Thailand's sustainable natural resources and environment agenda.
"Thailand has undertaken both bilateral and multilateral cooperation, implementing at sub-national, Region (ASEAN), and globally about environmental cities, climate change, waste and chemical management, biodiversity, forest, water resources, coastal resources, sustainable consumption and production, and driven to achieve sustainable development goals", Mr. Petchsuwan said.
Mr. Daniel Hachez, Minister Counsellor of EU to Thailand, believes that bringing together the experts and leaders from the EU and ASEAN cities will enable not only an exchange of knowledge but also share a pivotal example for urban transformation.
"The EU is focusing on the sustainable dimensions of cities, which can contribute to citizens' well-being and health" Mr. Hachez said.
From ASEAN, the Head of Environment Division, Dr. Vong Sok, states that such action-oriented event like City Windows Series that convenes as well the solution providers and development financing institutions from the EU and ASEAN will enable an enhanced understanding of both sides.
"Financing cities for green smart cities remains a significant challenge in the region. This policy dialogue provides an important step to exchange lessons learned and best practices from the European cities to address the shortcomings of the ASEAN urban financing architecture." Further, Dr. Vong Sok added, "ASEAN Secretariat stands ready to support the implementation of Smart Green ASEAN Cities Programme to enhance cities' capacity and initiate future cooperation between cities and development financing institutions, especially through the EU and ASEAN cooperation, as well as coordination with other ASEAN initiatives."
In addition, the UNCDF's Director of Local Finance, David Jackson, believes that piloting city finance innovation requires necessary knowledge, skillsets, and visions from the cities and national government that supports to establish enabling environment for city finance.
"A practical dialogue like City Windows Series is designed to ensure the cities and national government capacity are well equipped. This will enable SGAC serves as city finance model for future scale-up of the approach and model. The unique design of the dialogue also allowing cities presenting their projects pipeline to receive inputs from finance institutions and let them share and discuss how to enhance harmony," Mr. Jackson said.
The Smart Green ASEAN Cities programme is funded by the European Union (EU) and implemented by the UN Capital Development Fund (UNCDF) and Global Fund for Cities Development (FMDV) will facilitate policy development, access to public and private funds as well as cooperation between cities in ASEAN, and between ASEAN and European cities.
The City Windows Series is one activity among other activities, and the whole programme is expected to synergise with other ongoing initiatives in ASEAN such as the ASEAN Initiative on Environmentally Sustainable Cities, the ASEAN Smart Cities Network (ASCN), and the ASEAN Sustainable Urbanisation Strategy (ASUS), as well as with the EU-supported SMART CHANGE project which facilitates the cooperation between Jakarta, Bangkok and Berlin.